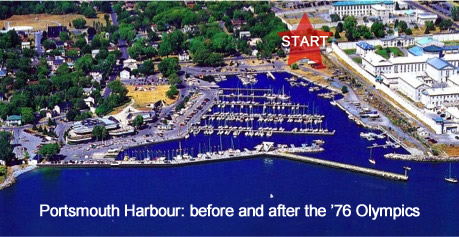 Time   Sunday, May 6th at 2.00pm
Start: King St W at the lower end of the Penitentiary Building
Parking: Portsmouth Olympic Harbour
Since the 1830s, the harbour in Portsmouth Village (part of Kingston since 1952) has been a place of maritime trade, ship-building and industry. This included wharves, marine railways, a tannery and a brewery (and taverns!), as well as activities associated with the building of and supplying Kingston Penitentiary.
The harbour was transformed to host the sailing events for the 1976 Olympics.  Starting with an overview of the harbour (parking is available in the park area, enter off Yonge St.), our tour will review activities here prior to the Olympics and how the City of Kingston hosted the sailing events in 1976. We will tour the Olympic Harbour Building, as we discuss its original design and how it functions today for various purposes, including sailing events such as CORK.
During the walk along the waterfront and Yonge Street, industrial, residential and commercial buildings – whether surviving or demolished – will be described. We will end along the shore in the area once dominated by the tannery at the foot of Mowat Ave and look towards the grounds of Rockwood Asylum.  Participants are encouraged to proceed on their own further west on the public walkway.
Walk Leaders: David More, Tim Irwin and Michael Sayer
Tour Flyer >> Jane's Walk 2018- Portsmouth District
Visit the Jane's Walk Website  for more details >>
April 16, 2023, from 2 pm to 4 pmPortsmouth Olympic Harbour Building53 Yonge Street, KingstonDoors open at 1:15 p.m. for membership registration and payment  This is our first in-person AGM since 2020, due to the pandemic. We are excited to be able to again welcome...
Quick Links
Get Involved Kingston
Visit Get Involved Kingston, the City of Kingston's new public engagement platform. Follow and participate in engagement opportunities to help shape projects, policies and initiatives. Share your ideas for making Kingston a better place to live, work and play.
DASH
The new DASH (Development Approval and Services Hub) portal gives you 24/7 access to municipal development services and valuable community information.
A-Z Services – City of Kingston
Reach emergency services, bylaw enforcement, building permit information and more….